Grossing Workstation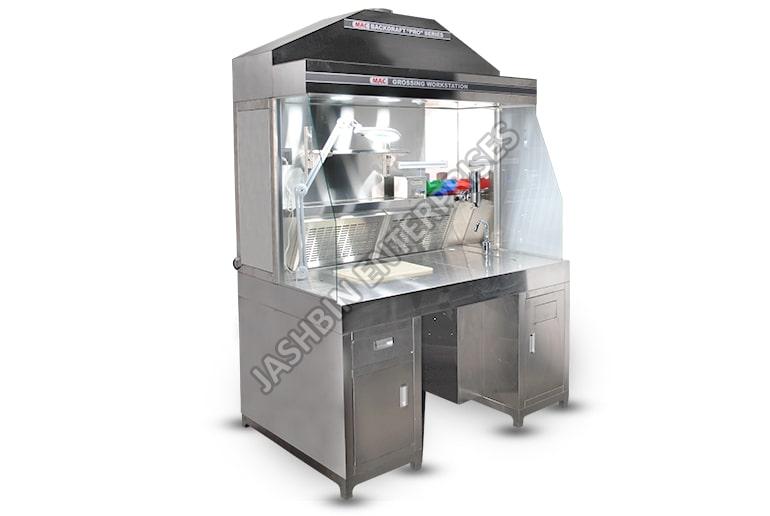 | | |
| --- | --- |
| Business Type | Exporter, Supplier |
| Brand Name | MAC |
| Model | MSW-113 |
Description:
MAC PRO backdraft grossing station is designed to provide Sturdy, customizable and affordable workstations for path labs. Our PRO Series workstation comes with optimum suction capacity and additional features that assist in grossing as well as protects you from inhaling harmful formalin and other fumes while grossing.
MAC Grossing Stations definitely serve the purpose to be in compliance with regulations of exposure to formaldehyde and other chemicals in the grossing room. In general, they are convenient for routine work in grossing rooms with adjustable levelers adjustments accessible water and shelves for supplies. Ventilation at the working position provides air extraction directly back through the table, removing odor and fumes as close to the source as possible. Offers maximum safety and prevents the technician from inhaling contaminated air.
Innovative Back Draft Technology for "MAC" Grossing Stations helps eliminate odor and controls harmful pathogens, ensuring the highest possible level of clinical effectiveness. All our products not only meet the existing health and safety standards but also exceed them thus maintaining maximum protection for the technician working with our products.
Features:
All Stainless Steel Construction made of SS 304
Inbuilt ventilation system capable of removing all formalin fumes from the worktop and from Technicians breathing zone
Sink with Coldwater Faucet
Removable perforated worktop
Back Draft fume Removal system.
Powerful LED Lighting
Dissecting and chopping Board
Magnetic Tool holder
Cleanable Pre Filter to remove fine particles
Worktable Height : 800mm
Additional shelf for storing
Hand rinsing assembly
Sprinkler system for perimeter rinsing with adjustable bibcock for both sanitation located underneath the perforated working plates.
Transparent air deflection panels.
SS-304 shelf for storing containers
LED Lighting
All S.S. Construction
Hot/Cold Faucet Mixer
Effective and efficient perimeter rinsing system with water sprinkler line
Perforated detachable worktop plates for core cleansing of the worktop.
Designed in accordance with various user demands we provide a production and cleaner working environment
Paper towel or paper tissue dispenser
Hand shower assembly for remote rinsing
Backdraft external exhaust ventilation provides total user protection against harmful formalin and chemical fumes while working.
Applied Fields
Pathology
Histology
Anatomy
Toxicocogy
Necropsy
Macros Copy
Options:
IR SENSOR FAUCET: Provides easy and ergonomic access to the user as well as proper hygiene levels.
AUTOMATIC HAND DRYER: Provides safe, healthy and germs free user hands besides providing maximum comfort levels to user post operations.
MAGNIFYING LAMP: With fixture for mounting 3 are an adjustable magnifying lamp.
SAFETY SPLASH SHIELD: For user protection against any splash of chemical /fumes.
WASTE DISPOSAL CRUSHER ASSEMBLY: A heavy-duty waste disposal crusher assembly to prevent any blockage in drainage.
OVERHEAD SPOT EXTRACTOR: A specially designed spot extractor besides an integrated backdraft exhaust assembly provides additional safety to user preventing inhaling of any formalin fumes.
ACTIVATED CARBON FILTER: Vertical RFC Plus box type Carbon Filter (Activated Carbon + KOH with KMnO4) with rod support fabrication.
Media: Carbon
MOC: Aluminum
AVG Efficiency: 90% (Disposable Type)
Technical Specifications & Ordering Informations
| | | | | |
| --- | --- | --- | --- | --- |
| 'PRO' SERIES MODEL | #GWS-433(PRO) | #GWS-353(PRO) | #GWS-633(PRO) | #GWS-733(PRO) |
| SIZE | 4' x 3' x 3' | 5' x 3' x 3' | 6' x 3' x 3' | 7' x 3' x 3' |
Looking for "
Grossing Workstation

" ?
Piece