Air Purification Tower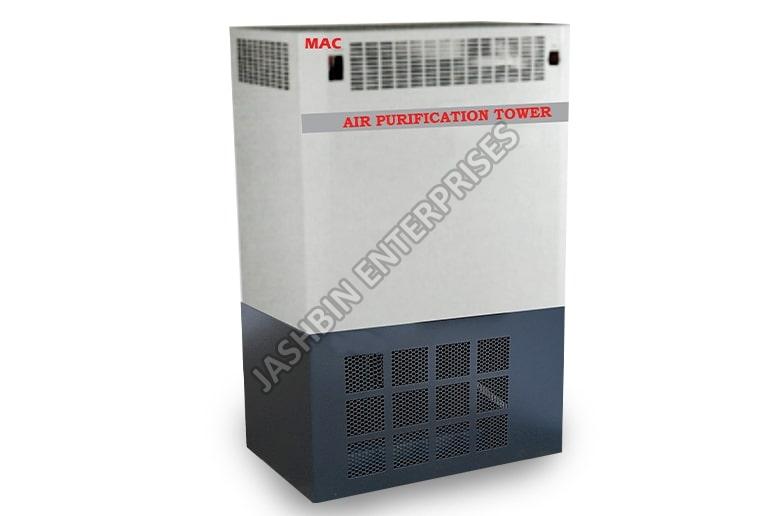 | | |
| --- | --- |
| Business Type | Exporter, Supplier |
| Country of Origin | India |
| Brand Name | MAC |
| Model | MSW-184 |
Features:
This is a high technology our product designed to improve the air health conditions in labs. It reduces particulates, harmful Volatile Organic Compounds, Chemical Airborne Contaminants & Micro-organisms. These equipment has as many as 9 stages for air purification.
Filtration Stage:
Pre Filter: For course particulates of 10 microns.
HEPA Filter: For Particulates & micro-organisms down to 0.3 microns with 99.97% efficiency, DOP Tested.
Activated Carbon Filter: For Fumes & Odours.
Activated Alumina Filter: For Volatile Organic Compounds & Chemicals Airborne Contaminants.
Potassium Permanganate: For Germicidal action.
UV Light: For destroying Organic Contaminants.
Ozone Lamp (optional): For Aesptesizing the Air.
Electrostatic Precipitator: For Fine Airborne Particulates (optional).
Negative ION Generator: For Air Freshness (optional)
Effective Coverage: 400 Sq. ft. (37 sq. m)
Max. Air Flow: 500cu. ft./min (850 cu.m./hr)
HEPA Filter Capacity: 650 cfm, ie of 25% over rated capacity for longer life.
Air Filtration Cycle / Hr.: 7.5 (in 400 sq. ft ×10' ht room)
Construction is of heavy CRCA powder coated after 7-tank pretreatement. SS-304 is available an optional Castor Wheels & Mains Lead storage for easy mobility.
Dimensions: 27''(W)×18''(D)×42''(H) : 690mm×460mm×1070mm
Filter Choke Indicator: Continuously indicates filter choke status.
Optional Accessories
Timers for : i) Ozone shut off, ii) Equipment shut off.
Digital Micro-Controller & CMSO Quartz Time with 7 days/24 Hr, Daily & Weekly setting for auto. equipment On-Off cycling.
Technical Specifications & Ordering Informations
| | |
| --- | --- |
| MODEL | #APT-400 |
| EFFECTIVE COVERAGE | 400 Sq. Ft. (37 sq.m) |
Looking for "
Air Purification Tower

" ?
Piece