High Pressure Horizontal Rectangular Steam Sterilizer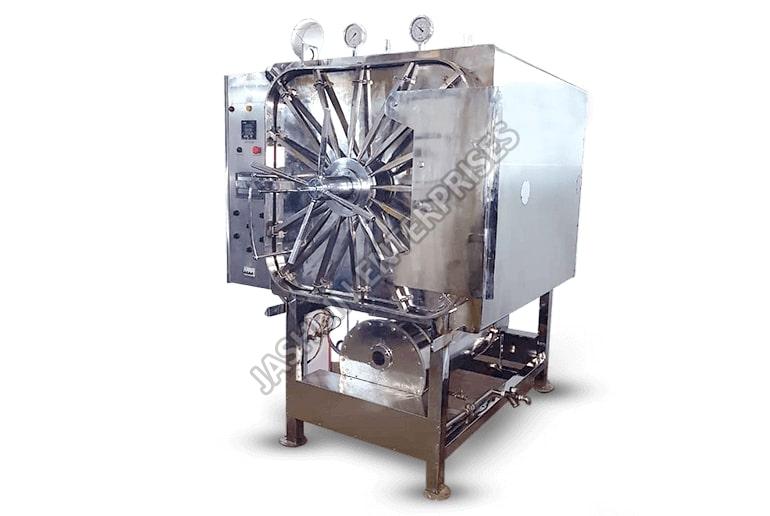 Business Type
Exporter, Supplier
Brand Name
MAC
Model
MSW-105
Controller
Microprocessor Based Digital Temperature Indicator-cum-controller
Click to view more
Product Details
Exhaust of Pressure
Manual Through a Multiport Valve
Sterilizing Pressure
1.2 to 1.5 kgf /cm² (15 to 20 psi) at 121°C
Operating Pressure
From 15 to 20 psi
Pressure Gauge
0-2.1 kgf /cm² (30 psi)
MOC (Pressure Vessel)
Stainless Steel (SS-304)
Moc (jacket)
Made of Cold Rolled Steel
MOC (Boiler)
Stainless Steel
MOC (External Wall)
Mild Steel Sheet Duly Painted
MOC (Lid)
Mild Sheet Duly lined with S.S. from inside
Power Supply
440V AC, 3 Phase Supply
Features:


MAC Sterilizers are most ideal for critical applications requiring assured and reliable total destruction of all living micro-organisms.


Inner Chamber is made up of thick non-magnetic steel of 304 quality and jacket is made out of rolled steel.


Single door made of rolled steel lined with S.S. sheets has radial locking system.


The space between outer cover made of thick rolled steel sheet and the steam jacket is filled with asbestos sheet or glass wool to minimize thermal losses.


Boiler is made of thick stainless steel sheet and is located under the sterilizer.


Unit is fitted with water level indicator, safety valve, pressure gauge, water inlet and drain valves.


Unit is also fitted with low-water level cut-off device and automatic pressure control device.


All "MAC" rectangular sterilizes are fitted with SELF LOCKING SAFETY DOOR device.


The door cannot be opened when chamber is under pressure.


Two separate valves are provided for evacuating steam from inner chamber and jacket, as and when desired.


Fitted with safety valve as a safety device.


Drain valve is fitted at the side bottom for easy draining/cleaning.


Fitted with vacuum breaker to break vacuum in case of formation of vacuum due to steam condensation.


Triple Walled with Steam Jacket and Separate Boiler. Sterilization cycle is controlled by Multiport Valve. The unit is fitted with all standard accessories.


To work on 440 volts, 3 Phase, A.C. Supply.


Options:


G-LOG – Fully automatic digital (FAD) with real time data logger with CENTRONIC PRINTER PORT (DOT MATRIX) and USB Port for taking data (Paperless Data Recording) and Saving ON PC. (DOT Matrix Printer to customer scope).


P-LOG – Fully automatic digital (FAD) with real time data logger with CENTRONIC PRINTER PORT (DOT MATRIX) and RS-485 PC communication port with 21 CFR compliant software and data cable for logging data directly to your PC. (DOT Matrix Printer and PC to customer scope).


Digital Temperature Controller with timer can be fixed at an extra cost. Once the temperature is attained it will automatically start the timer. It raises on alarm at a set time, so that operator is alerted & he can perform balance operations.


Automatic water feed system can be incorporated in the boiler, so that at higher level is switched off the water pump and restart is at lower level automatically.


Digital Pressure & Compound gauges can be provided in lieu of analog gauges.


Vacuum pulsing through a closed coupled water ring high vacuum pump for creating forced vacuum and fast drying process.


TFT Touch Screen Display Controller in lieu of LCD Display.


Multipoint Temperature/Pressure Scanner with LCD display and CENTRONIC port for printer. Total 8 scanning points with five for temperature and one for pressure. Supplied complete with 7 Nos. RTD probes and one pressure transmitter sensor.


Double door for any of the above models to cost extra.


Circular chart recorder to cost extra (for Temperature only).


Circular chart recorder to cost extra (for Temperature and Pressure only).


Technical Specifications & Ordering Informations
MODEL
#HRSS-180
#HRSS-240
#HRSS-320
#HRSS-430
#HRSS-810
#HRSS-1260
Inner Dimensions (WXHXD) (mm)
450X450X900
450X600X900
600X600X900
600X600X1200
600X600X1500
900X900X1500
Capacity
180 ltrs
240 ltrs
320 ltrs
430 ltrs
810 ltrs
1260 ltrs
Display
16×2 line Alphanumeric Digital LCD with backlet display with Set Value (SV) and Process Value (PV)
-
-
-
-
Looking for "
High Pressure Horizontal Rectangular Steam Sterilizer

" ?
Piece